I've been meaning to share the good news for awhile, that I moved from Manchester to Todmorden back in May this year during lockdown, and then moved my studio over as well at the end of July. It's a great space that I really enjoy working in. Check it out:
I was originally planning to build a studio at the back of our new house in a courtyard area that we shared with our neighbors, but after moving in it soon became clear that that wasn't going to be the best solution. Our neighbours are in their late 70's, have lived their for 40 years, and built the whole courtyard themselves with its beautiful stone planters and Narnia lamps and creeping vines, and most importantly are convinced that they own more of it than my architectural plans say they do. And I just had no interest in being that guy that moves in and tears up their backyard and plants a tattoo studio there with metal music blaring out the windows and a bunch of tattooed freaks coming and going all week. So I went for a drive around town looking for another solution.
It was a nice way to get a feel for the town and every one I talked to was super friendly and helpful in that way you rarely find outside of small towns. I finally found an opportunity right in the center of town just a few doors down from Tod Art Studios. I was originally hoping to find a space there but that turned out to be a dozen artists all sharing one room, but the guy that owned the mill turned out to have a 2000 sq ft space upstairs that he was planning to start converting before lockdown. So my inquiry gave him the kick he needed to getting things moving again. This is how it looked when I first viewed it: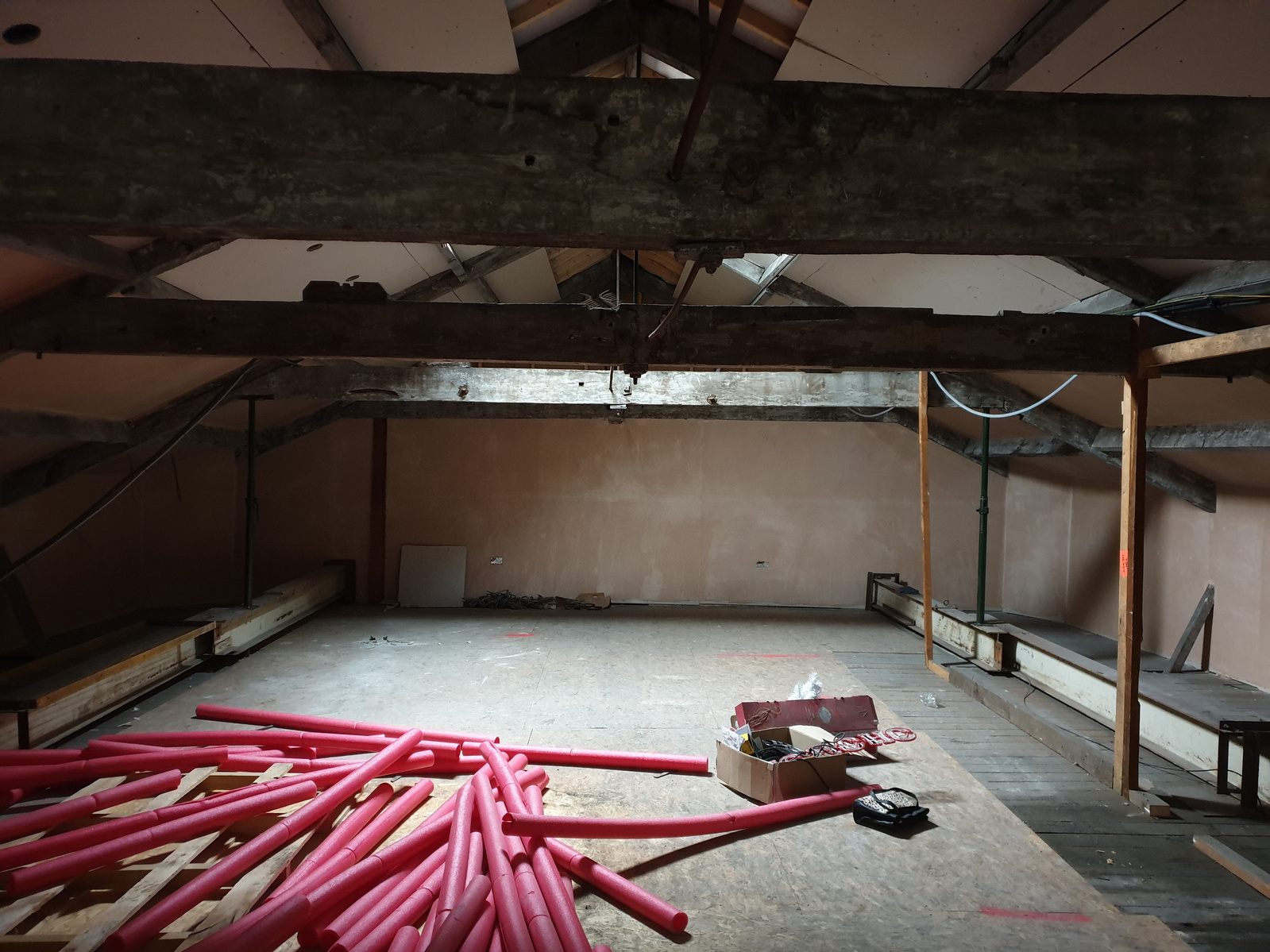 The wide open space offered the benefit of allowing me to just ask for whatever size space I wanted, so I carved out 500 sq ft at the end of the room, with additional storage space of 150 sq ft under the low slope of the roof. So it's twice the size of my last place, plus storage. It's only a ten minute walk through the park from my house as well, instead of a 20 minute drive as in Manchester. I was a little worried that it only having one skylight would make it feel too claustrophobic but actually the high peaked roof and the lighting makes for a much more airy, spacious and calming place to work and my clients seem to agree that it's a more relaxing experience for them than in my old studio in Manchester. I've also made up for the lack of windows by playing movies all day so you can enjoy such classics as Big Trouble in Little China, Mortal Kombat and the Mummy while I stick you with needles.
I gave myself two weeks to get the room ready, starting with a base of plasters walls and a plywood floor. I managed to sand all the beams and stain them, paint all the walls and lay the floor in the first week with a little help from Stef and her Dad, and then had the next week to hang art work and build furniture and get everything in place.
It was a pretty zen few weeks of DIY and it felt great to finally finish and get my first client in and start working. I wasn't quite sure how to feel about it until I had a client in that had been to my old studio, but as soon as I started tattooing and felt my clients settle into it comfortably I knew I'd made the right decision. I'm always super grateful and honored to have clients willing to follow me when I move out of town as well so it's been awesome to have my clients from Manchester keep booking in for more work in spite of the 45 minute drive to Todmorden. It is a beautiful drive though! I'm also about 20 minutes closer to my clients in the Harrogate/Leeds area, so it's a win all round. Hope to see you here some time.